LiberSave – for merchants
The LiberSave platform makes it possible for any business to issue their own digital coupons and provides the convenient infrastructure for interactions with clients, keeping track of coupons and promotion within the platform.
Sign Up
What you get
✓

Easy launch - coupons are issued in a few minutes.

✓

Mobile app for selling coupons and receiving payments in coupons.

✓

The entire audience of the platform as loyal clients for your business.

✓

Additional marketing tools for engaging with potential clients.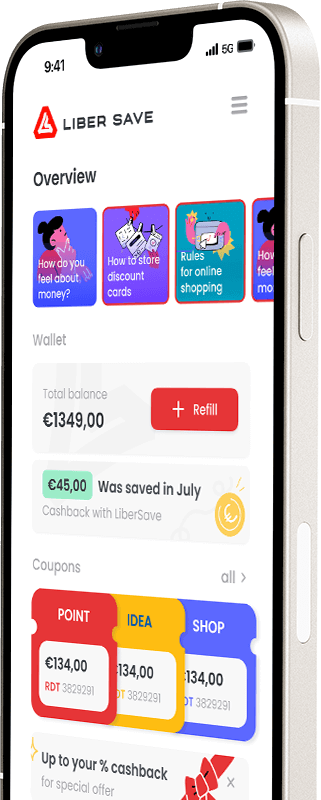 How much does the usage of the platform cost
It's free. There is no membership fee and no hidden payments, everything is absolutely transparent. All you need to do - set a fixed discount on your goods or services for our platform. A portion of a fixed discount will go to the customer, another portion is kept by the platform.
What we do to justify our share in the discount
✓

We develop the platform, design and implement new features.

✓

We hold promotional activities and bring in new users and platform participants.

✓

We ensure technical and legal support of all of the processes.

✓

We act as an arbitrator in case of any dispute among platform participants.

✓

We guarantee mutual settlements and correct execution of payment transactions and cashback payments.
What the user gets
✓

A portion of the merchant's discount in the form of cashback on each purchase.

✓

The mobile app for payments in coupons and keeping track of all transfers.

✓

All coupons gathered in a single account.

✓

Handy catalogue with navigation through the merchants' offers and the map of the offline stores.

✓

Notifications on merchants' offers relevant for the user's preferences and their current location.

✓

Additional reward for referring new users as part of the referral programme.

✓

The possibility to give coupons as a gift to another user.
Our strengths
Simple
Only a smartphone or a tablet is needed to use the platform. You can receive coupons both online and offline. No special equipment is necessary, coupons are received via a transfer in the mobile app or using a QR-code that you have to show to the client.
Sustainable
LiberSave's ethos towards a sustainable future are shown through our distribution of coupons. As opposed to paper vouchers or plastic cards, our coupons are digitised - they come with no manufacturing, distribution or accounting costs.
Intricacies
Getting started
To start operating with LiberSave coupons you only need to register with the platform. We will provide the offline stores with all necessary stuff and our tech-specialists will help integrate online-payments.
Platform roles
Companies and entrepreneurs can be Merchants. Individuals, companies and entrepreneurs can be Customers.
Coupon circulation
Customers can purchase coupons online via bank-transfer on the LiberSave Merchant's page or for cash at an offline sales point. If a Customer purchases coupons online on the platform, LiberSave transfers the received amount in full without deducting any fees to the Merchant's bank account. Platform gets its reward as a portion of the discount at each coupon payment.
Legal basis
Coupon, also known as Gutschein, is defined by the Council Directive (EU) 2016/1065 with amendments. According to this definition, a coupon means an instrument where there is an obligation to accept it as consideration or part consideration for a supply of goods or services, and where the good or services to be supplied or the identities of their potential suppliers are either indicated on the instrument itself or in related documentation, including the terms and conditions of use of such instrument.
Join LiberSave
Fill this form and our onboarding team will contact you ASAP.
Something goes wrong. Please try again later.