LiberSave – for users
Use coupons to pay for goods and services and get instant cashback on each purchase. Do your shopping intelligently and get the most for yourself and your family.
Sign Up
What you get
✓

Instant cashback on each purchase.

✓

The mobile app to make payments in coupons and keep track of all transfers.

✓

Handy catalogue with navigation through the merchants' offers and the map of the offline stores.

✓

All coupons gathered in a single account.

✓

Bonuses for referring new users.

✓

Possibility to give coupons as a gift.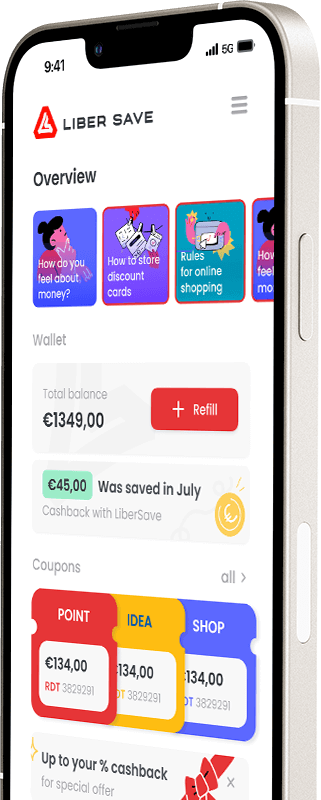 Our strengths
Convenient
Instead of dozens of cards and vouchers, all you need is a smartphone. All the offers are gathered in a single handy app with the catalogue of online shops and the map of offline stores.
Sustainable
LiberSave's ethos towards a sustainable future are shown through our distribution of coupons. As opposed to paper vouchers or plastic cards, the LiberSave coupons are digitised - they come with no manufacturing, distribution or accounting costs.
How it works
Who can become a user?
Individuals, companies and entrepreneurs can be Customers.
How do I get coupons?
Customers can purchase coupons online via bank-transfer on the LiberSave Merchant's page or for cash at an offline sales point.
Where can I spend my coupons?
Use our catalogue of the platform members to find goods or services. You can also pay with your coupons if you see LiberSave listed as a payment method in an online store or at an offline sales point.
Add your favourite locations
Is your favourite coffee shop not listed on our platform? Add it to your desired locations list and invite your friends to vote for it! Your votes will help us convince business wonders to add their business to the platform. The most engaged participants with get bonuses for their input to the platform development.
Referral bonus
Invite your friends to join the platform and get a bonus when they purchase LiberSave coupons.